The B&B is through the Corona Virus closed  till 1 August
From 1953 till 1969 your B&B room was the official  post office of Vleuten.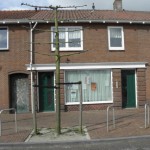 It is a spacious living-bedroom on the ground floor with its own entrance and access to the garden.
The house is in the centre of the village and opposite there is a small shopping centre. The room has two single beds as a standard.
There is a toilet and a washstand with hot and cold water. The room has no bath or shower, but you can use the joint shower on the second floor.
There is also in the room:
air-conditioning
TV/Wifi,
Kettle-fridge-microwave,
Piano,
Wheelchair
Stairlift to first and second floor.
The B&B is open all year and smoking is not allowed. Children are warmly welcome but pets  not. The room is accessible for disabled people.
English and German  spoken.
Further information mail to:
T.Oostrum
Past. Ohllaan 7
3451 CB Vleuten
Tel. (31) 030-677 27 18